This post is constantly updated with new Sailor Moon toys I get from Japan. You will usually find figures, dolls, rpg toys, cards, keychains, plush, stickers, etc!
Last updated: July 30, 2013
READ THESE BULLET POINTS BEFORE COMMENTING/PURCHASING!!!!! I've been taken advantage of far too many times so that's why all these rules are in place. If you don't agree, don't buy from me.


Everything is from YJA so items are used/junk unless otherwise stated, I try to take clear & large pictures so please look carefully. Everything is sold as is.


I ship from Canada, which means shipping to US is around 2 weeks. International is a little longer.


Paypal only, prices are in USD


If you refuse to pay for tracking, I am not responsible for lost mail. I will have proof of shipping via the customs form and/or shipping receipt.


If you refuse to pay for insurance (for items over $75), don't expect me to pay for damages the post office caused. Some employees like to kick the boxes/run them over with trucks/etc, this is beyond my control. I've been taken advantage of before and will not allow this to happen again!!!


I'm open to trades & partial trades


Assorted gashapon, all new & sealed unless otherwise stated:
Bathing Suit Usagi - $13
Chibiusa + Hotaru - $10
(2 left)
Eternal SM - sold
Princess Serenity - $40
Human Luna - sold
Super SM - sold



Bathing Suit Rei/Minako/Ami/Makoto - $13 each
The Rei on the right is not sealed, has been put together, in excellent condition and comes with insert.

Chibimoon + Artemis - $35
Temple Rei - $15
Hotaru - $15
Sailor V - sold
Mistress 9 - $10




PGSM Sailor Moon Doll - $60
Very hard to find. Used condition, missing wand. Box in poor condition.
Sailor Uranus Excellent Model Figure - $35
Used, missing back bow, click the pics to enlarge. Rei gashapon is for size reference. Shipping will be quite a bit since this figure is pretty big and heavy.





SMW Chibi Puffy Stickers (very rare) - $9/sheet (Saturn sheet & Uranus sheet sold)





Assorted Sailor Moon Keychains:
Neptune- sold
Venus- $12
Pluto- sold
Saturn- sold

Diana Plush - $65
Mini Cushion - $20




Sailor Moon Prism Cards - $3 each (both group cards sold):

Sailor Moon Cards - $2 each:
Chibimoon Pin - $15
Assorted Sailor Moon Pins:
Luna/Artemis(with stars)/Pegasus - sold
Middle Row - $7 ea (Chibimoon sold)
Moon/Tuxedo Mask/Artemis(with hearts) - $12 ea (Mamoru, Yellow Tux, Right Artemis sold)
Sailor Stars Hankie #2 - $15
Sailor Moon Foamy Bookmark - $6
Chibi Jupiter Memo Book - $12
VesVes Plush - sold
Setsuna Keychain Plush - sold
Christmas Jupiter Plush (no tag) - $10
Christmas Jupiter Plush (with tag) - $15
Mars Puppet Plush - $20
NAKAYOSI BLACK POUCH - free with purchase
All the Moons below are $6 each: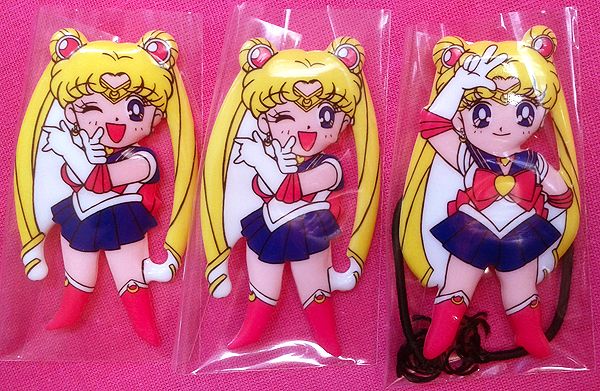 All the Moons above are $7 each. Still available:
2 keychains
1 fist in the air
1 sticking out tongue
1 pointing
1 hand on forehead




Inner senshi: $5 each (both Mars, Venus, Jupiter with V hand sold)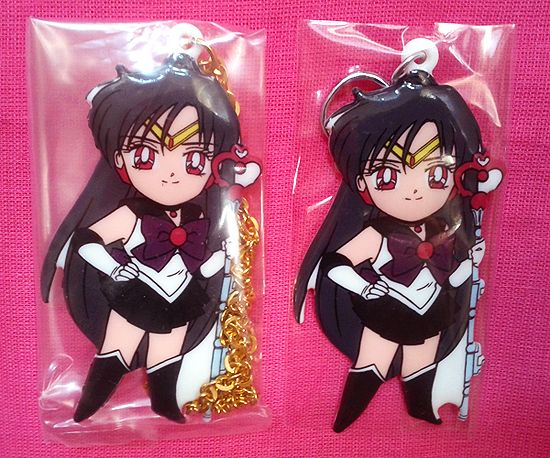 Pluto with gold chain - $15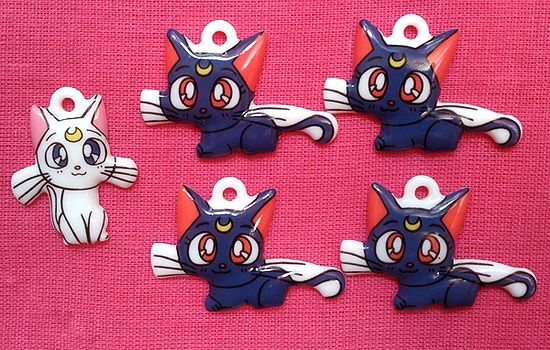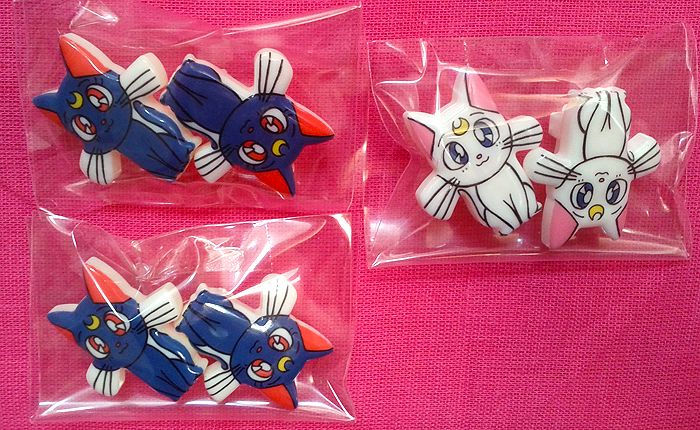 Luna & Artemis (very rare): $10 each (all Luna sitting up clips sold, 2 laying down Lunas left, all Artemis sold)





SuperS Magnet Complete Set - $45


SAILOR MOON ELECTRONIC GAME - $20
Has been opened, needs new batteries.




SMW SERAMYU HEADSET - $35
I'm not a fan of seramyu so don't know much about this item. Box has damage, item looks good though.
Shipping for this will be expensive, it's HUGE & VERY HEAVY (doesn't look it, but trust me it's heavy lol) and comes with a VHS tape.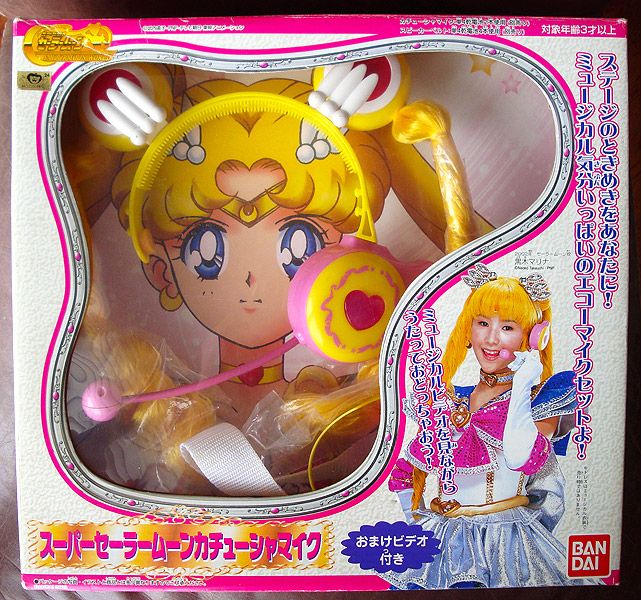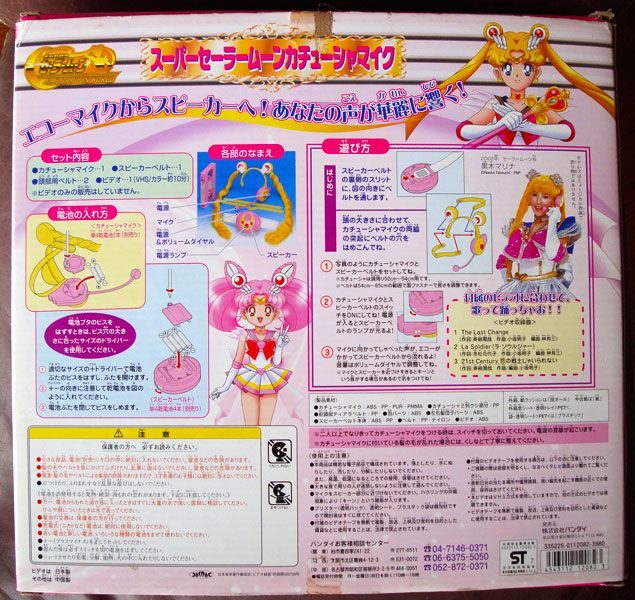 SAILOR MOON CALENDAR CLOCK - $25
The calendar pages are long gone, it's just the picture of their faces left like in the picture below. Item & box are in great condition.





Sailor Moon Doll Dress - $15
New in package


Rare SMW Water Squirter Figures - $8 each (only 1 Chibimoon left, all else sold)





Camera toy (it's one of those you look through the hole to see scenes from the anime) Package has been opened in the back - $8





Plastic standees with stands - $2 each (Mars sold)





Sailor Stars Sticker Sheet (large full size sheet, over 25 stickers) - $10




R Movie book, there are pictures of SM merchandise inside and some other pictures from the movie - $12





One free with $10 purchase! or you can buy each for $0.50. Jupiter pin & 4 items on the right sold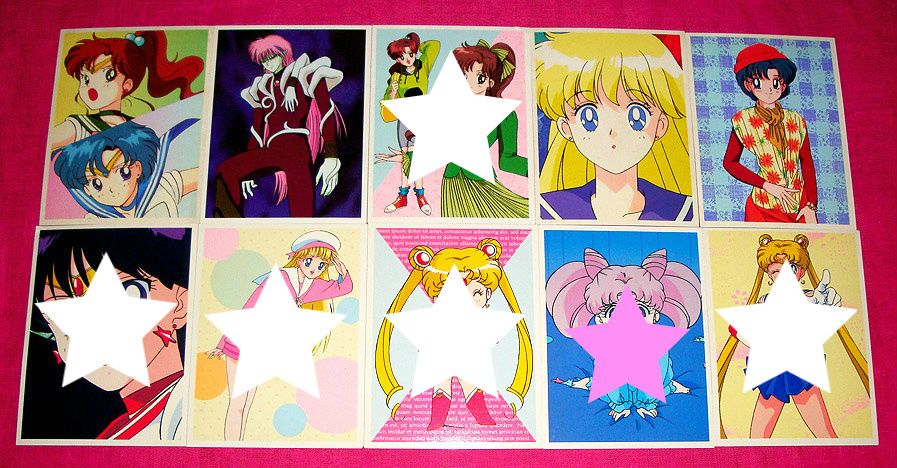 they're like cute photographs! bigger than a reg card. $1 ea





Coaster size circular cards - $2 each, the right ones have a crease





these ones are 2" wide - $1 ea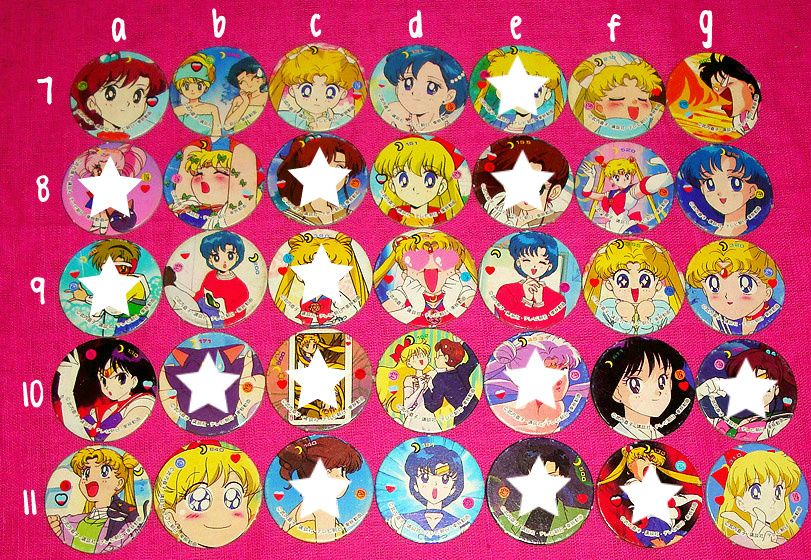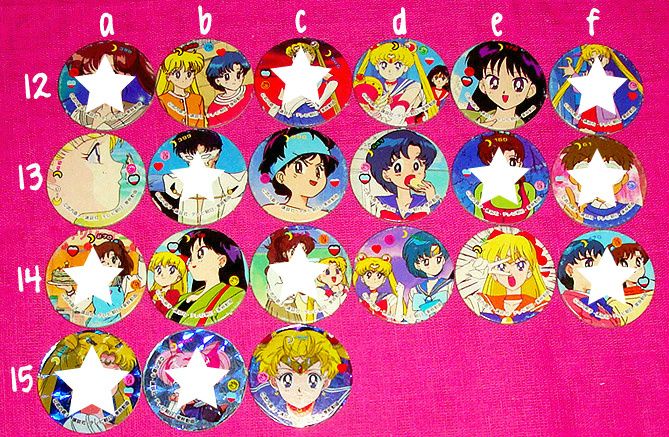 these are a little over 1" wide, $0.50 ea, holos are $1 ea





Paper envelopes - 1 free per item purchased!





Pink Bow Keychain - sold
Cosmic Heart Brooch Keychain - sold
Jupiter - sold
Pluto - sold
Mercury - $6 shipped





New Chibi Mars luggage tag - $15





SAILOR MOON STICKER CARDS (REGULAR SIZE)

- UNOFFICIAL - $0.50 each (bottom 2 + top middle sold)

Set of 4 Sailor Moon Custom Magnets

- $20 including shipping
They are made of glass so they are fragile, features 4 different lockets! Each measures around 1.25" - 1.5". Since they are handmade, each magnet will vary slightly in shape and size.